Is Liquid Paint the Best Finish for My Aluminum Profiles?
When deciding on the right finish for your aluminum profiles, there are a number of things to consider.
You have to keep in mind how the extrusions will be used. And you also need to decide whether to put more weight on appearance or corrosion protection.
Liquid paint is one of the most common finishes for aluminum extrusions. And, as with other finishes, It comes with benefits and drawbacks. Here are a few of each.
Benefits of Liquid Paint
More colors than any other process
A wide variety of paint types
Can be used to produce small batches more easily
Drawbacks of Liquid Paint
Contains harmful VOCs
More waste is generated than powder coating
Difficult to achieve consistent color at all times
What Kinds of Colors are Available with Liquid Paint?
Virtually any color that you can imagine can be mixed in liquid paint form. It's more complicated to create custom colors with powder coating. This is because of the grinding process that comes along with it.
Consider color options as a plus for this finish type.
What Paint Types Can I Choose From?
There are quite a number of options when it comes to paint types. Choices include acrylics, polyester, silicone polyester and PVDF.
The appropriate choice can be made based on requirements for application, corrosion resistance, and so on.
What if I Have a Small Batch of Extrusions?
Liquid paint is generally the go-to option for small-batch production. This is because it's so easy to get the exact colors you're looking for. With powder coating, you might have to rely on available colors that are commonly used.
If you need more color flexibility for a small batch, this is a benefit of liquid paint.
Are Liquid Paints Harmful to Humans or the Environment?
The solvent in liquid paints contains volatile organic compounds (VOCs). These VOCs are a precursor to ozone formation similar to car exhaust. Thus, they are definitely harmful to humans and the environment.
The environmental harm from VOCs can be limited, though. This requires the use of expensive VOC abatement systems. When manufacturers use these systems, they drive up costs.
Does Liquid Paint Generate More Waste?
When compared to powder coating, liquid paint is somewhat more wasteful. The overspray is lost forever and cannot be reused.
This is definitely a drawback to consider when comparing these two finishes side-by-side.
Will My Extrusions Always Have a Consistent Appearance?
Due to day-to-day differences in equipment, conditions, and process, there can be variations in appearance.
This is something to consider when going with a paint finish.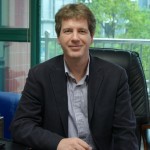 "Liquid paint is a popular option for aluminum extrusion finishing. Although it comes with environmental drawbacks, those can be minimized at factories that have invested in abatement systems. This does drive up costs, though."
Gary Teeling
General Manager, Gabrian International
Is Pretreatment Required for Liquid Paint?
When the extrusion surface is exposed to oxygen, some initial oxidation occurs. This produces a black or grayish smut that needs to be removed. Therefore, the manufacturer needs to pretreat the aluminum.
They'll do this with various sprays which they apply to remove it. After pretreatment, the surface can be painted.
Liquid Paint vs. Powder Coating
When compared to powder coating, liquid paint will give you similar color options. But it will give you slightly more of them. And paint gives you flexibility when working with smaller batches. However, it will generally not be as resistant to chipping. And it contains VOCs which are harmful to the environment.
Liquid Paint vs. Anodizing/Dyeing
When compared to anodizing, liquid paint will give you a wider range of bright colors. It will give you a less aluminum-like look. Also, the color on anodized and dyed aluminum is less affected by sunlight and the elements than paint.
Summary
Liquid paint is a popular finish for aluminum extrusions.
It offers a multitude of color options and paint types. And it can be used to produce small batches more easily. But the VOCs generated can be harmful to the environment. And more waste is generated by the process. It can be difficult to achieve consistent color across all batches.
You should take these attributes into consideration when deciding on a finish for your extrusions.
Take a look at our aluminum extrusions page for more information about our services. We offer high-quality profiles from India with on-time delivery, and great service.
High-Quality Aluminum Extrusions From Asia