Christmas is here once again. That means it's time to head over to Aunt Marge's place and stuff yourself until you pop. Don't forget to look ecstatic as you unwrap that pair of argyle socks Uncle John gives you every year.
Christmas is also a good time for DIY projects. With just a little work you can add plenty of cheer to everyone's day.
Here are 3 DIY projects people are using to make their homes more festive for Christmas this year.
Project #1 – WiFi Controlled LED Christmahanukwanzaa Tree
This Christmahanukwanzaa tree allows you to celebrate all of the holidays at once! Use an Arduino Yun to control a strip of NeoPixels from your tablet. Then you can adjust the color scheme of the lights at will. Christmas, Hanukkah or Kwanzaa colors will brighten up your holiday season.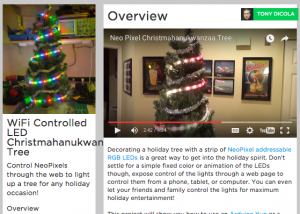 Project #2 – Color Changing Christmas Star
A single, golden colored star on top of your tree is fine. But how about making one that changes colors? With 5 RGB LEDs and a little magic from Arduino you can make your Christmas tree the prettiest on the block.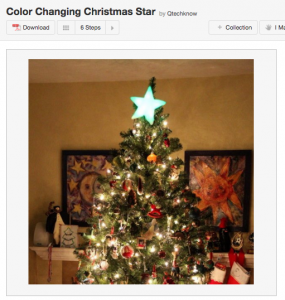 Project #3 – Raspberry Pi Christmas Tree Light Show
Create a light show on your Christmas tree that will make the neighbors truly jealous. Load up your favorite song and enjoy the lights as they light up to the beat. This project uses Raspberry Pi rather than Arduino so that you can drive the audio out of it and have the lights timed with music.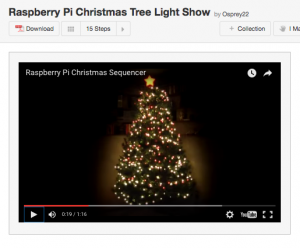 DIY projects are a great way to have a little fun and make your home more festive. Enjoy your Christmas!