Standard Aluminum Extrusions
High-Quality Standard Aluminum Extrusions - Always Delivered on Time
Aluminum can be extruded into a wide variety of shapes. Our extrusion plants in India produce the standard aluminum extrusions you need, including tubing, angles, channels, and more. We offer a wide range of finishing and other secondary operations.
Contact Us About Your Project
Tubing, Angles, Channels and More for Your Project
Whether you need tubes, angles, channels, or other standard shapes, we can produce the extrusions you need. All of our extrusions are made to order at our partner facilities in India. We work with companies that order medium to large volumes, helping them save costs while still getting high-quality extrusions that are delivered on time. Below are some of the shapes we can extrude.
Alloy & Tempering Options

Standard extrusions like tubes, angles, and channels are usually made with the 6061 or 6063 aluminum alloys. Typically 6061 is used for structural applications while 6063 is used for architectural trimmings. Profiles are also sometimes extruded in the 2024 alloy for aerospace applications.
If your standard aluminum extrusions require other alloys, our factories can produce the custom alloys that will match your specifications. These include 2000, 3000, 5000, 6000, and 7000 series alloys.
We work primarily with companies that require medium to high quantities, so we can customize to suit. Technicians can perform tempering or do cold work on your extrusions to enhance strength or corrosion resistance. Let us know if you need any tempering or cold work.
Finishes & Secondary Operations

Our extrusion plants can perform a wide range of finishing services on your standard extrusions. They can be anodized, painted, powder coated, sublimated and more. They can also be drilled, cut, or stamped to your specifications at the factory.
Anodization can be performed to enhance corrosion resistance and prepare the aluminum for other finishes. Painting or powder coating can give you extrusions with bright, vibrant colors. Sublimation gives your profiles unique patterns such as a wood-look finish.
Our technicians can cut your extrusions to the exact length required. They can also drill holes in the aluminum to your specifications or perform stamping operations.
About Our Chinese & Indian Extrusion Facilities
Our main goal is to provide our customers with high-quality extrusions while minimizing their costs. To do this, we've partnered with several reliable extrusion facilities in China and India, who we work very closely with. We have offices in the United States, China, and India so we can bridge the gap between countries and provide you with excellent service. The factories have a wide range of capabilities to serve you, with top-notch equipment and personnel. Our project team works closely with you to ensure your success. For more details, contact us about your project. We will match you with the appropriate factory and get you a quote
Get Great Tips From Our Blog
We regularly post helpful content to help design engineers and procurement professionals get the most out of their extrusion projects. Here are some of the latest aluminum extrusion posts on our blog.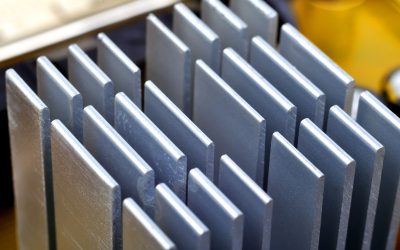 Electronic devices can generate a lot of heat. So, heatsinks play an important role in helping to cool them. You may be aware that aluminum is the most popular metal for heatsinks, but that copper is also sometimes used. You may also realize that copper has...