We sat down with Gabrian Co-Founder and President Julian Teeling to discuss how the company navigated 2020, the Coronavirus pandemic's impact, and the manufacturing industry's future.
Government-mandated lockdowns throughout the world impacted supply chains more than could have been anticipated. Lockdowns also changed consumer spending habits, with less money spent on travel and dining and more on essential goods and products for their home.
Many industries felt the supply chain disruption, but the impact was felt harder by those whose businesses witnessed unprecedented surges in demand. When manufacturers were allowed to begin production post quarantine mandates, employees went into overtime to deliver, yet getting product into the United States remained a pressing issue.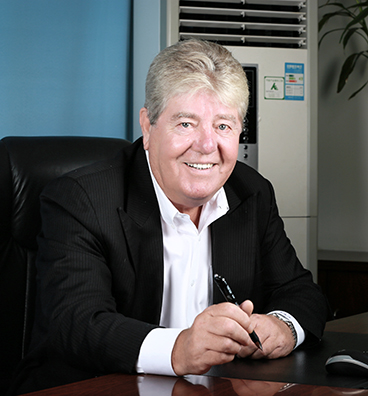 Dealing With Covid's Impact on Shipping and Receiving
"When it became apparent that Covid was impacting our ability to ship product, we faced the problem of customers not being able to receive due to lockdown policies," Teeling explained. The issue escalated for companies with global supply chains due to the lack of container availability in India; customers could not return their empty containers to the sender.
This presented a cash-flow issue for many. "When we could not ship product because customers could not receive, we went on a temporary, company-wide salary reduction." It was an essential risk made with unanimous support to preserve jobs and company capital.
"Our goal is always to protect the jobs and livelihood of our employees; we economized everywhere we possibly could but had to think of the best option for our long-term success. Having team support to briefly reduce salaries to ease the financial burden of the virus was critical."
Preserving the Team and Avoiding Layoffs
This methodology had helped Teeling and Gabrian navigate crises, including the terrorist attacks of September 11, 2001, the SARS outbreak of 2004, and later the global recession of 2008. "My first priority is always to preserve the team," Teeling revealed. "My strategy begins and ends with the hard-working people that define our company, our mission, and our values."
Teeling's formula has resulted in a skilled, loyal, core staff, many of whom have been with the company since its inception. Teeling has also found opportunity in challenging times: "We took advantage of the corporate layoffs of the financial crisis in the late 2000s to recruit incredibly qualified, accomplished individuals who helped develop and lead our company efforts domestically and in South Asia, which expanded the trajectory of our business."
Adapting to Workstyle Changes Brought on by the Pandemic
Now that salaries have resumed and the Gabrian Team has adjusted to the new work-from-home lifestyle, Teeling looks to the future: "We have certainly capitalized on the advancements of technology to keep our team connected and our business operating at full capacity."
And while the autonomous workstyle allows people to achieve a work-life balance that may not have been plausible previously, are the days of the corporate 9-5 officially over? Maybe, but hopefully not, Teeling elaborates, "As we have adapted to working remotely, we have found that in some cases we prefer the comradery, productivity, and creativity that being physically together generates."
Covid has certainly presented real challenges for many, and the manufacturing industry is no exception. Factories who were fortunate enough to resume production in the 2nd quarter of 2020 faced the difficult challenge of navigating operations in accordance with new social distance and hygiene regulations.
Peering into the Manufacturing Industry's Future
On the purchasing end, customers have learned to avoid further supply chain delays by ordering in a timely manner, rethinking their order quantities, and considering tactics such as vendor-managed inventory.
For Gabrian, Teeling predicts 2021 will witness the manufacturing industry recover with a vengeance, partially due to demand, but also industry resilience. "Once the virus is under control, I predict a massive rebound in manufacturing. I'd encourage those who rely on overseas manufacturing or are seeking to source overseas to plan their orders wisely in anticipation of longer lead-times."
Since the industrial revolution of the late 18th and 19th centuries, manufacturing has consistently risen to new challenges, and Teeling predicts the industry's response to Covid will be a reflection of that. "I speculate that throughout the next few years, we will witness an increase in technological breakthroughs that will prevent the industry from experiencing setbacks of this magnitude in the future."